Psytrance Poncho (version 1)
I make all my psytrance gear because it's a lot of fun to do so and I know how much people love seeing the results when I'm at a gig - just like I love seeing what others bring. Anything colorful that lights up is just my thing and the reason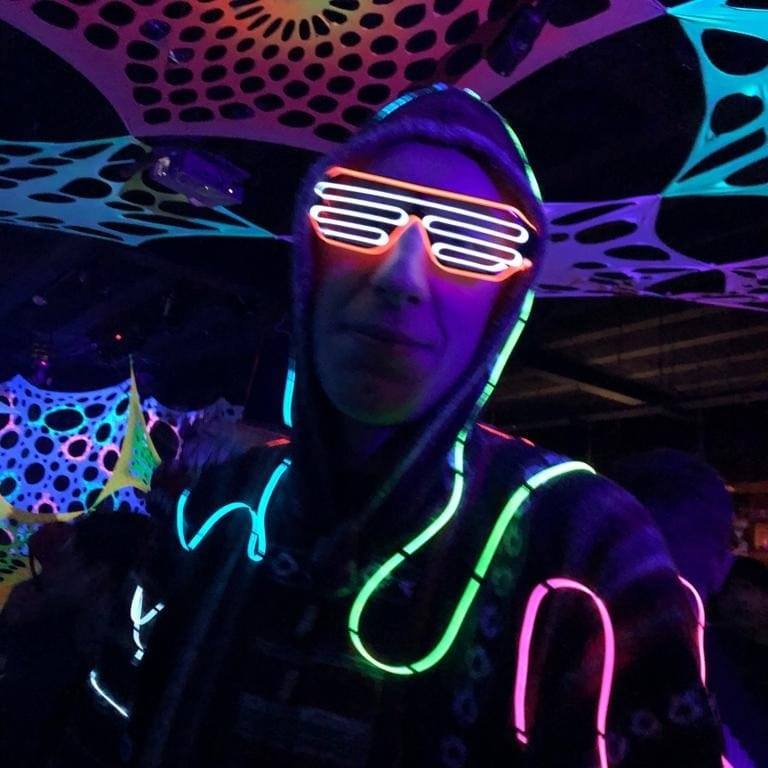 This post is about "EL Poncho v1". While absolutely amazing, you should check out Psytrance Poncho version 2 for an updated version.
Materials used
These are what I used for the full kit I wore on the first real night out with this particular outfit. A lot of things will change for the next iteration. The reasons why are described in the section below ("Lessons learned").
Important notes / Lessons learned
When working with the poncho, sewing and EL-wire, there are some things to keep in mind.
EL-wire connectors are very weak, make sure to either (1) reinforce them properly or (2) protect them from pulling/tension.
Get splitters to hook up all wires to a single battery pack.
Poncho needs several rounds of handwashing to remove excess material and dye before wearing to protect your skin.
When sewing something onto the poncho, make sure to get enough material in between the in- and out-holes, or you risk the string tearing through the poncho and your EL-wire can come off.
Make a pocket for the battery pack OR make a hole on the inside of the front pocket, where the wire can come through.
Meet the maker
If you want to meet in person and it's not urgent, come to one of Crystal Kids' events. Otherwise just contact me using the details on the front page.